By Scott Olson // Indianapolis Business Journal
Kroger has set an opening date of Nov. 16 for its downtown store, giving residents another grocery option and once again bringing competition to the city's core.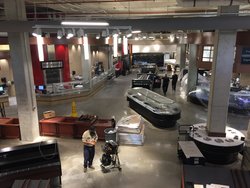 The Cincinnati-based chain on Thursday morning gave media a sneak peek at its efforts to transform the former Marsh at 227 W. Michigan St. into a Kroger.
However, the layout of the 50,300-square-foot store still will be recognizable to returning customers, Kroger spokesman Eric Halvorson told Property Lines.
"In some ways it will look very similar to the old store," he said.
Kroger secured the location with a bushel of other former Marsh stores as far north as Muncie and as far south as Bloomington. It's spending $20 million to renovate and reopen seven of them. The fate of the other four—at 1435 W. 86th St. in Indianapolis, 12520 E. 116th St. in Fishers, 2904 S. State Road 135 in Greenwood, and 123 S. Kingston Drive in Bloomington—is uncertain.
Kroger said it is spending $1.9 million to upgrade the downtown store, with roughly half the amount earmarked for technology improvements. Those include a new data security system compatible with Kroger's existing system, plus more self-checkout scanners.
The downtown store also will carry more pet products than did Marsh, Halvorson said, with 72 feet of shelf space devoted to them compared with Marsh's 42 feet. That's to accommodate dog owners who bring their canines to the dog park at Axis , the building that houses the Marsh space that Kroger is taking over.
The Kroger also will feature a Murray's cheese shop and a variety of local products and organic foods, said Halvorsen, noting lunch options and prepared meals again will be available.
Marsh's store on Michigan Street became available when the Fishers-based company attempted to sell all 44 of its remaining stores through a bankruptcy auction in early June.
Kroger's closest store to downtown was on East 16th Street near Central Avenue.
"Having access to customers interested in Kroger on this side of town was appealing to us," Halvorson said. "It just made sense for us to be here."
Kroger scooped up the leases for 11 stores for $16 million, while Findlay, Ohio-based Generative Growth II bought 15 for $8 million. The other leases went unsold, although Safeway has since leased a Beech Grove location.
The downtown Kroger is the first to open of the 11 Marsh locations the company took over, Halvorson said. The remaining Kroger stores should open by the end of March.
Generative Growth is affiliated with Findlay-based Fresh Encounter Inc., the manager of 59 groceries in Indiana, Ohio and Kentucky.
All but one of the 15 Marsh locations Generative Growth bought will operate as Needler's Fresh Market, a newly created moniker. The former Marsh at 320 N. New Jersey St. already is operating under the new name.
Downtown's grocery wars are expected to intensify even more next spring, when Whole Foods opens in the 360 Market Square apartment development.